Professional window washing for a Middletown home is an excellent investment in your home's appearance and condition. Window cleaning protects exterior glass from damage and ensures a more stunning view inside and outside the home, while a professional power washing company is the best choice for ensuring the job gets done right!
If you've been putting off regular window washing for a Middletown home, or have been tackling this work yourself, you might consider some reasons why it's time to invest in the services of a pro! This information will ensure you know your options for window cleaning and make the best decisions for your home throughout the year.
1. Protect Window Glass With Professional Window Washing in Middletown
Many homeowners fail to realize how regular power washing, including window washing for a Middletown home, protects exterior surfaces. Note that abrasive sand, silt, dirt, grime, and other such debris settling onto window glass often creates tiny scratches and etching. The grittier the airborne debris around your home, the deeper and more pronounced this etching!
Simply rinsing outside glass with a garden hose is often insufficient for cleaning away all that dirt and debris. Cleaning cloths and other tools can even push gritty debris into the glass, making damage worse!
Over time, these gritty residues might weaken glass, making it thin and brittle and more prone to rattling and even breakage. For a safe, thorough clean and to reduce the risk of glass damage, rely on a professional pressure washing contractor in Middletown rather than trying to manage this work yourself.
2. Improve the View With Middletown Window Washing Services
Dirty windows make an entire house look rundown and dingy, and especially if those windows are coated with years of storm debris, mud, bird droppings, and other unsightly residues! Even dried dust and cobwebs detract from your home's exterior and create a very unwelcoming look.
Along with creating an unattractive exterior appearance, dirty windows detract from your view from the home's interior! It's difficult to enjoy the view of the horizon or your beautiful yard when your home's windows are caked with dirt and grime or when layers of dust make everything look gray and dull.
Dirty windows also reduce interior sunlight, resulting in a dark, dim appearance and unwelcoming feeling inside your house. Clean windows, however, improve the view from both the inside and outside of your home! Added sunlight streaking through those windows helps houseplants to grow, and reduces the need for interior lighting, while also creating a brighter, cheerier space.
3. Professional Window Washing in Middletown Means a Thorough Clean!
Once exterior window glass suffers etching from dirt and gritty debris, even more dirt and dust tends to settle into those small scratches. This dirt often creates a cloudy or discolored look, but is very difficult to remove with standard window washing tools and equipment.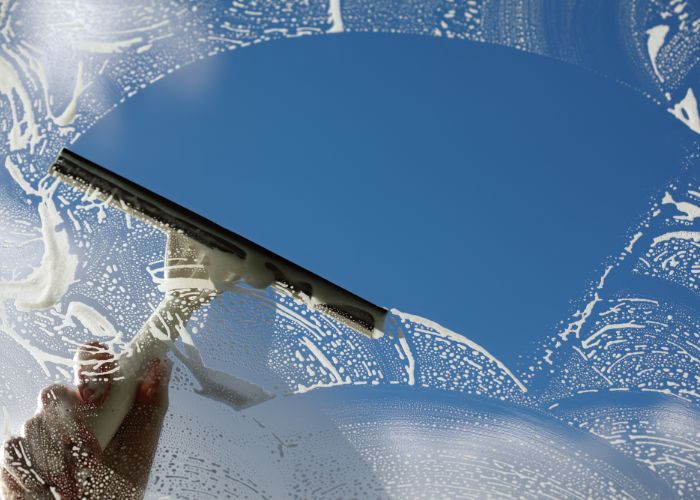 If your home is quite old and you've neglected regular window cleaning and now notice that your home's windows seem yellowed or grayish, call a power washing company in Middletown. Their services ensure thorough, efficient window washing for a Middletown home, getting into all those tiny scratches and other little nooks and crannies of windows and screens. Your windows will be left with nothing but a sparkle when you use a pro for window washing for a Middletown home.
4. Improve Outdoor Air Quality With Middletown Window Washing
Along with everyday dirt and grime, exterior window glass, screens, and frames might hold dried dust, cobwebs, insect nests, mold, residual cigarette smoke, air pollution residues, pollen, and other such allergens and irritants. These residues often become airborne every time a slight wind blows across the windows, creating a very unpleasant outdoor environment and especially for those with allergies and other sensitivities! Mold and other such irritants also create irritating odors that make it difficult to relax and enjoy an outdoor patio or deck.
Regular window washing for a Middletown home removes irritants and other debris, leaving behind clean, fresh air. You and your guests won't be bothered by mold, mildew, insects and pests, or years of pollen and cigarette smoke layers when you schedule window washing before opening your outdoor space and as often as needed throughout the year.
5. Stay Safe on the Ground With Window Washing in Middletown CT
While window washing for a Middletown CT home has many advantages, a homeowner wants to avoid managing this work themselves! It's often difficult for an inexperienced homeowner to manage proper, efficient window washing with long-handled tools that keep you on the ground, but you'll also want to avoid getting on a ladder to wash those windows!
Being on a ladder is dangerous enough under any circumstances but trying to manage cumbersome equipment while you also reach and stretch for those windows can easily risk a fall. Ladders also become especially dangerous when they get wet, making steps slippery.
A professional window washing contractor ensures proper safety precautions and is experienced in using tools both on a ladder and from the ground! This ensures their safety, and having them manage all your needed window cleaning also keeps you safe on the ground and out of harm's way.
How Often Should You Schedule Window Washing in Middletown CT?
Now that you know why it's good to call a Middletown, CT, pressure washing contractor for regular window washing, you might want to know how often you should schedule this service! Most homeowners find that window washing every other year, or every three years at the most, is typically sufficient.
However, your home might need annual window washing if it's located near a field with lots of plants that release pollen and other residues. Consider annual window washing if you're near a production facility, busy highway, or other location that kicks up lots of dust or creates soot and smoke.
Your outdoor kitchen or grill might also mean layers of smoke and soot covering your windows, and the need for annual window washing. You might also consider window washing in Middletown CT after storms have moved through, to ensure exterior glass is clean and free of abrasive grit and debris, and your home looks its best from the inside and outside.